Smart Wifi 100 Speed Fan Dimmer
Regular price
Rs. 6,999.00
Regular price
Rs. 9,450.00
Sale price
Rs. 6,999.00
Unit price
per
About this item
Smart Mobile Application Control : All your Home's Fans can now be controlled through your fingertips with your Smartphone as Hube's Smart Fan Dimmer comes preinstalled with Tuya / Smart Home Mobile App integrations. For advanced automations, you can seamlessly integrate devices on your Tuya App to your Google Home and Amazon Alexa. And to top it all up, all this can be done on Your Home's Wifi without the need of any External Hub or Monthly Fee.
100 Speed Control Options : Neither 1, nor 3, and not even 5 but now you can have 100 Speed control options for your Fan with Hube's Smart Fan Dimmer. This Fan Dimmer is ideal for all those who are never satisfied with the Speed of fan. Hube's Fan dimmer gives complete control of Fan's speed to You so you can select any Speed level from 0-100.
Agile Voice Control and Family Sharing : Get ready to get Hands Free control of your home. Through Hube's Smart Fan Dimmer, now you can control your Fan's Speed simply with your voice as well. Just tell Your Smart assistant app or Smart speaker to change the Fan's speed On and speed will seamlessly change in real time. You can also seamlessly share all controls with your Family members.
Smart Routines Creation : "Alexa, I am Leaving", is all that you need to say to switch off all of your Home's redundant lighting and fans. From making Bedtime Routines to Creating Lighting Modes, with Hube's Smart Switch Automations, the possibilities are limitless. Start living your life to the fullest by creating any Automation that you may like and get rid of doing all the Household chores manually.
Aesthetically Designed Touch Panel with LED Indicator Lights : If you are a fan of Beauty and want to accessorize your home with Modern looks, then Hube has got you covered. Hube's Fan Dimmer comes with a Premium Waterproof Glass Panel which is enabled with Touch Control and LED Indicator Lights. The Beauty of this Touch controlled Fan Switch will complement the Looks of your home and is 100% likely to raise eyebrows of your guests.
Certified for Quality Switches with Warranty : At Hube, Quality comes first! Our CE, FCC and RoHS Certified Smart Fan Dimmers are Precisely Manufactured with Input of 100-240 V 50/60 Ghz to cater for Over and Under Voltage protection. With an Output Capacity of 400 Watts per Gang Hube's Fan Dimmer switches are expected to last 10-15 years. Plus we offer 12 Months Warranty on these switches to make our customers even more comfortable.
5 Step Easy Installation with No Requirement of Additional Wiring : Hube's Smart Fan Dimmer Switches are made on UK Standard size of 86 x 86 mm (3.386 x 3.386 inch) which is one of the most common sizes in Pakistan. We have engineered these switches for extremely Easy Installation so you can Get rid of your Old Switches and Make a Smarter Choice by installing these switches in a matter of just a few minutes and 5 Really Easy to follow steps.
Looking forward to Free Installation? Check out our Smart Home Automation Packages and enjoy Free Installation and additional Discounts.
See more >>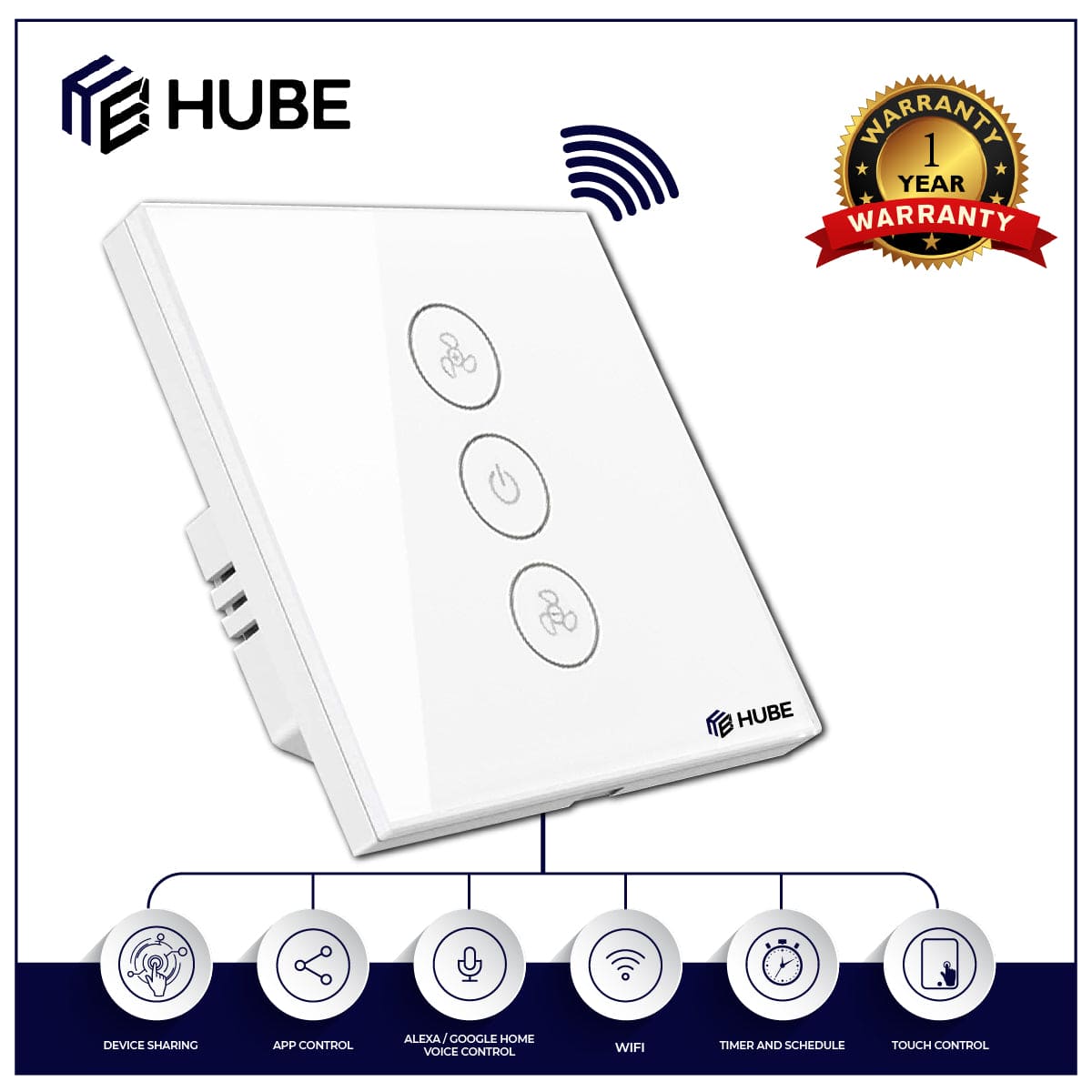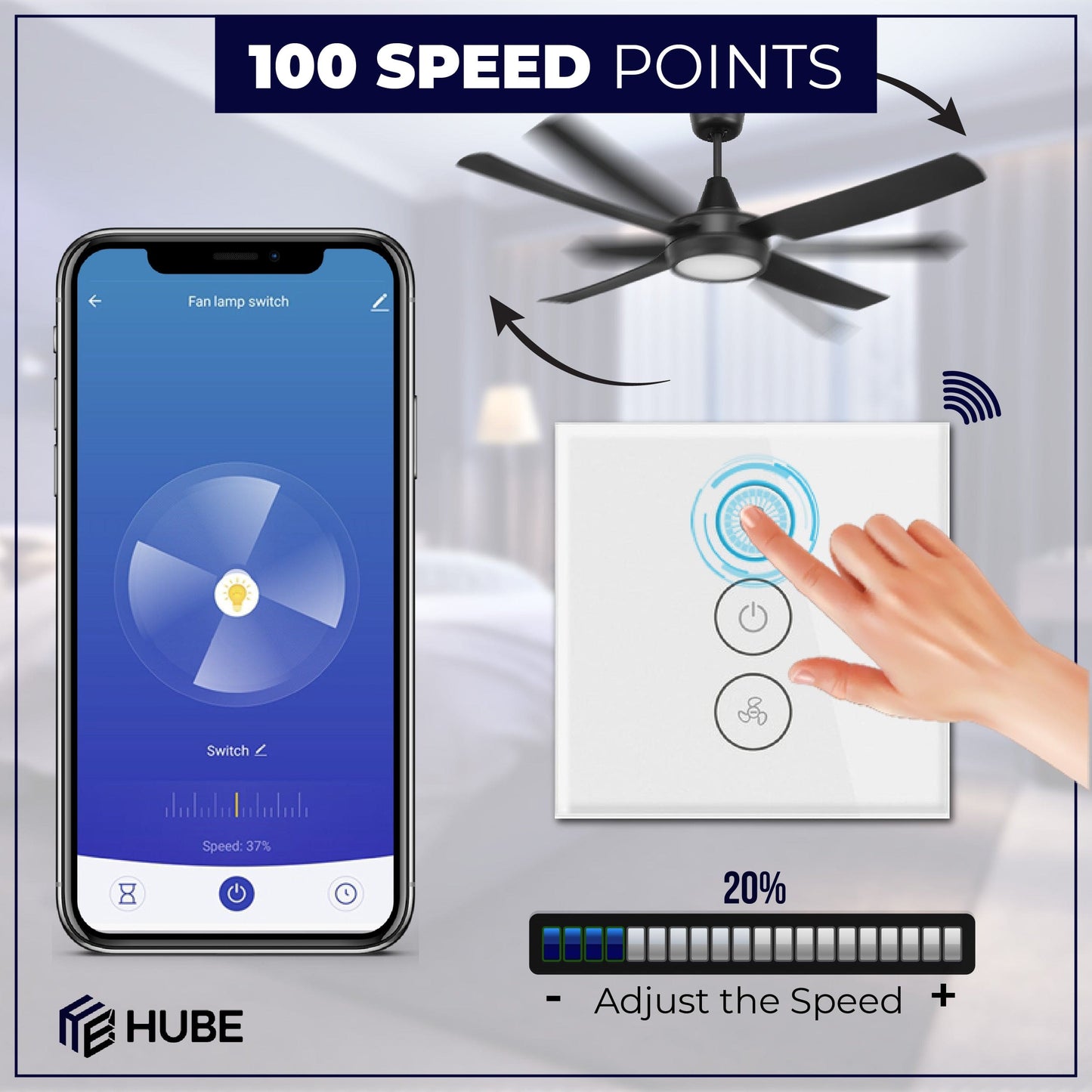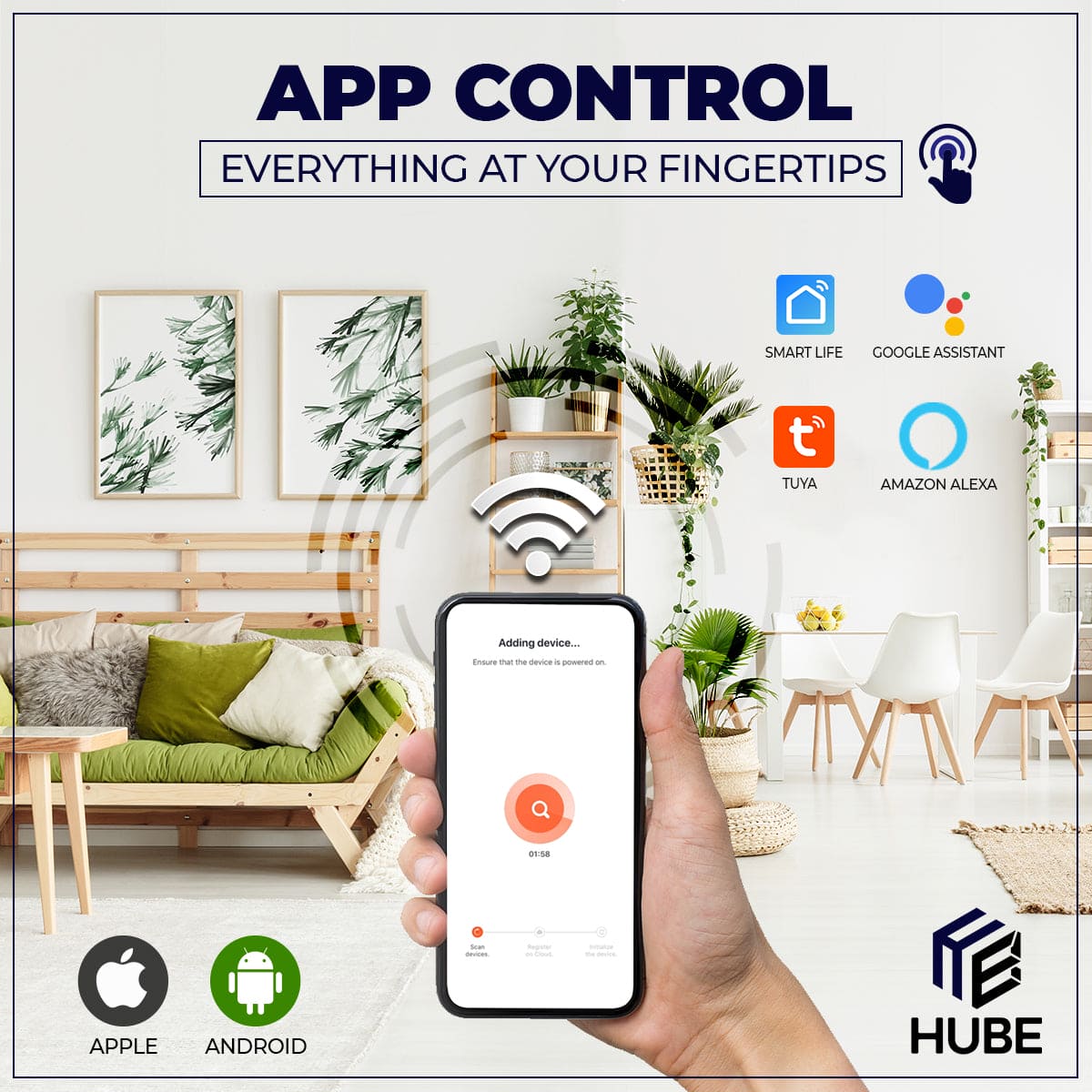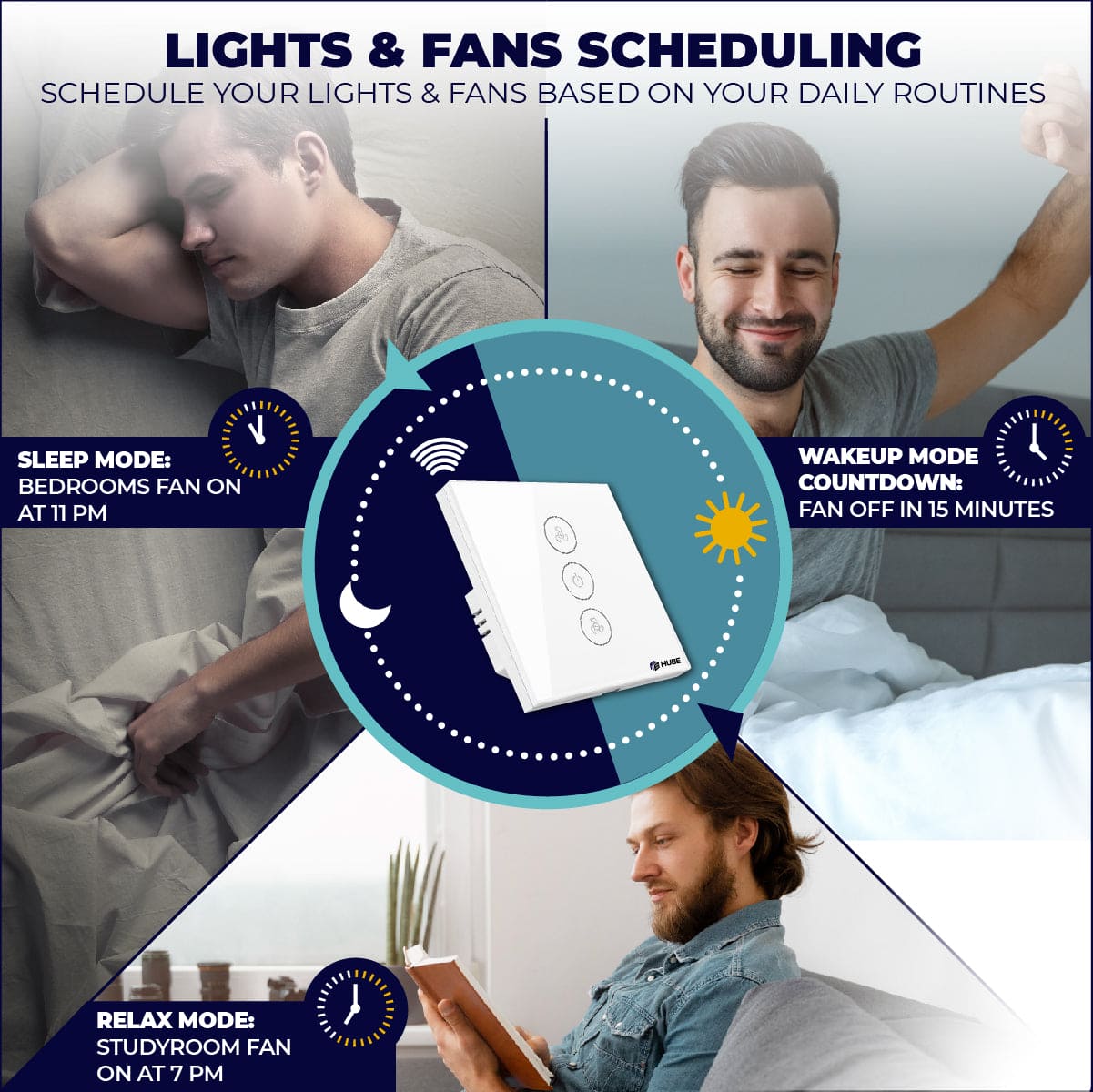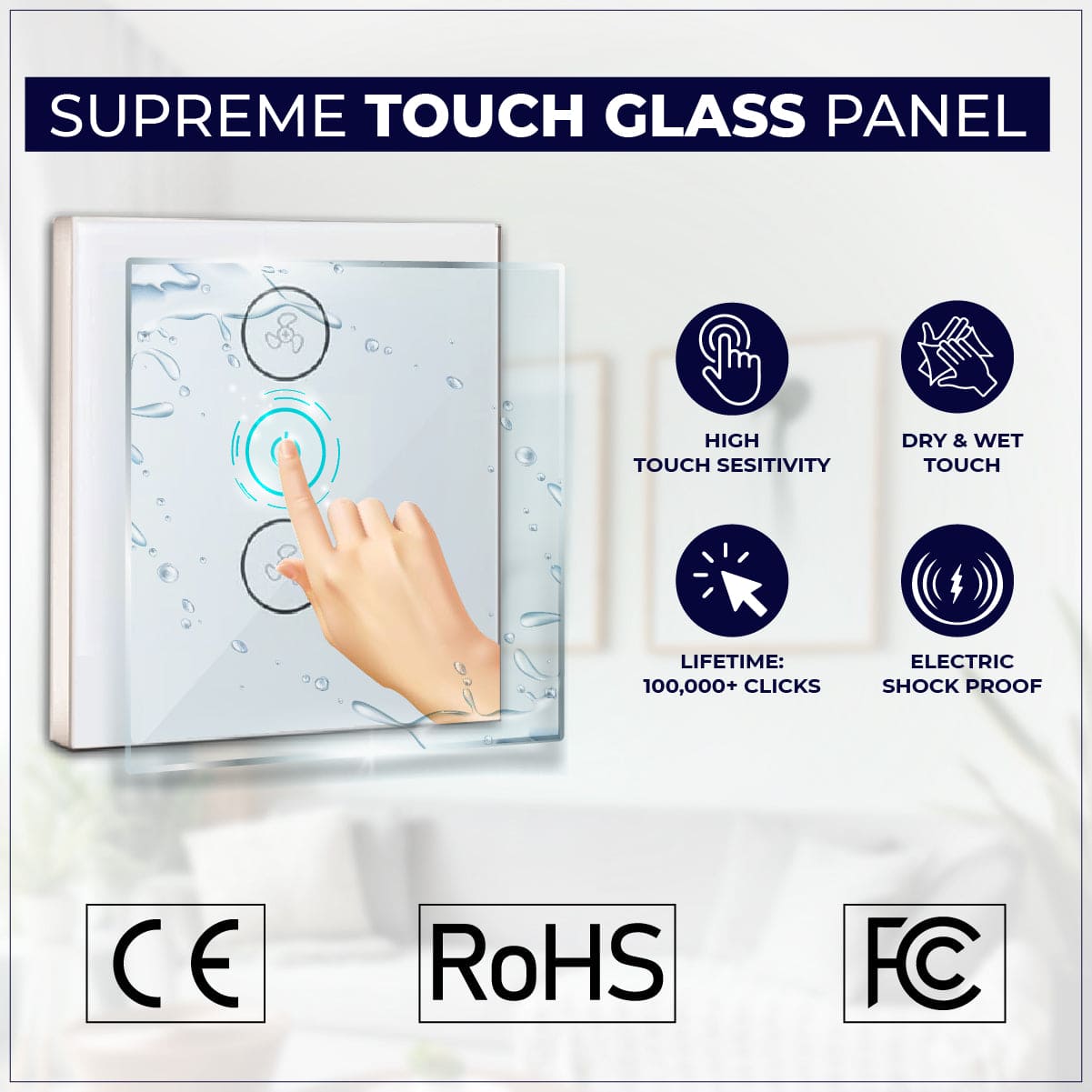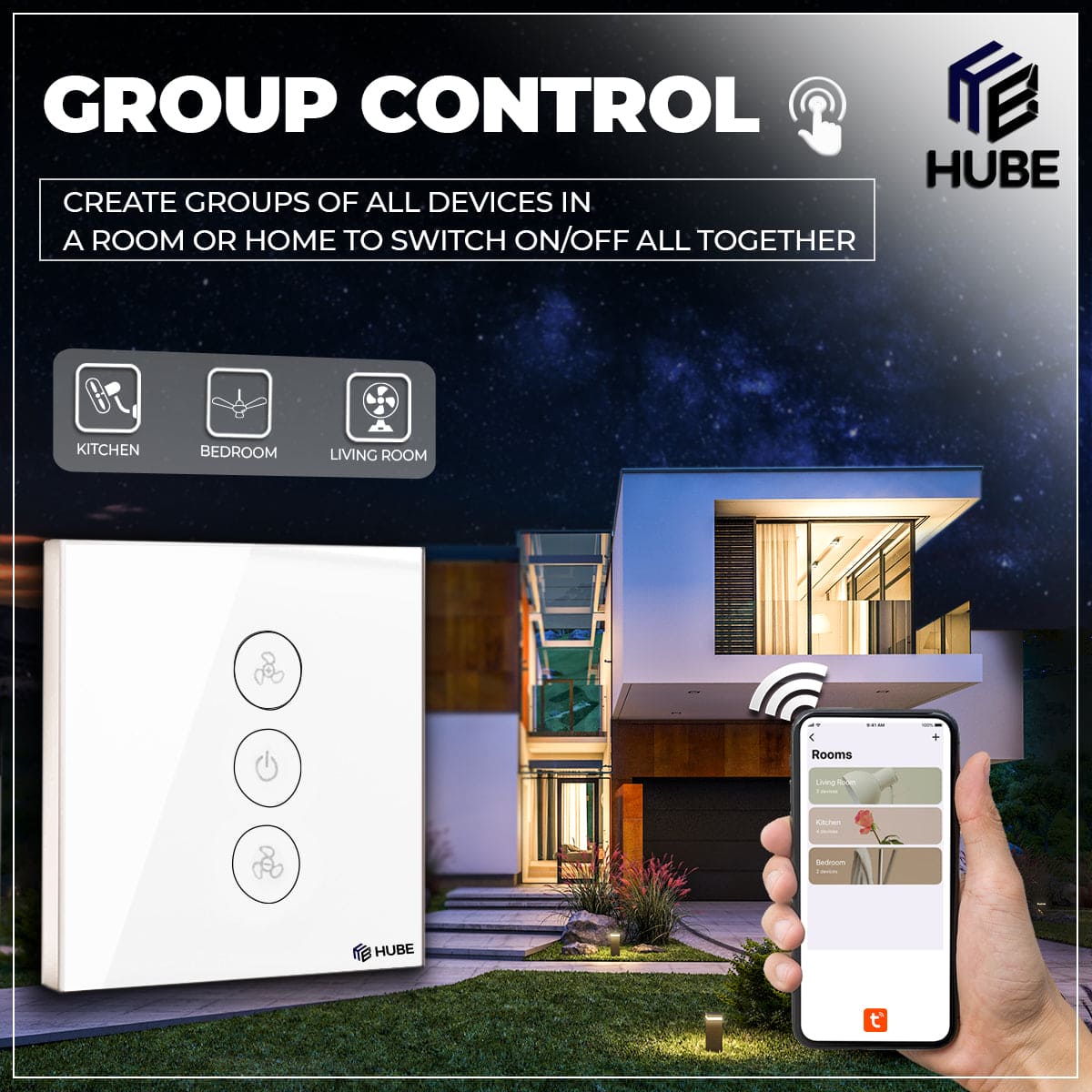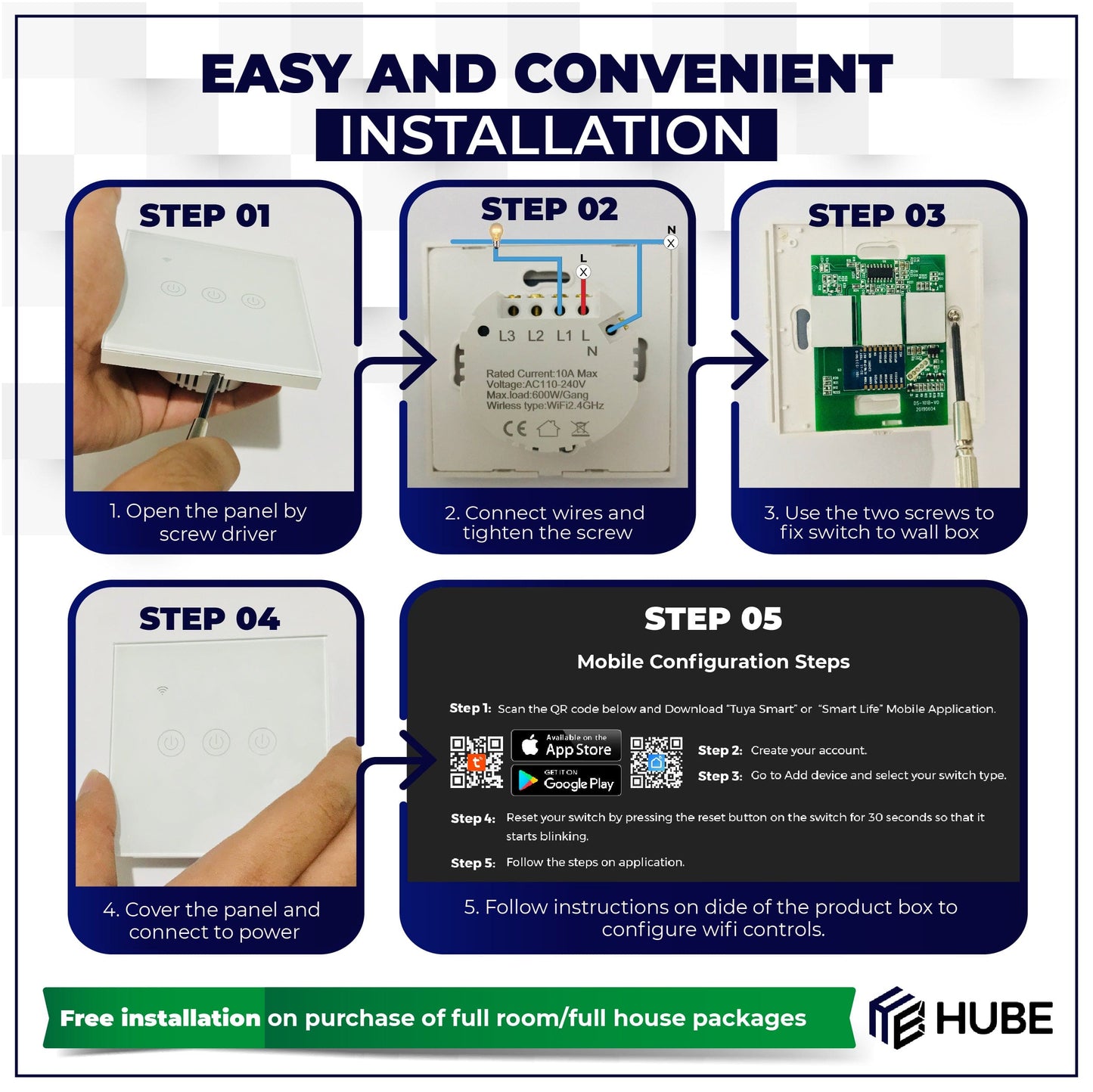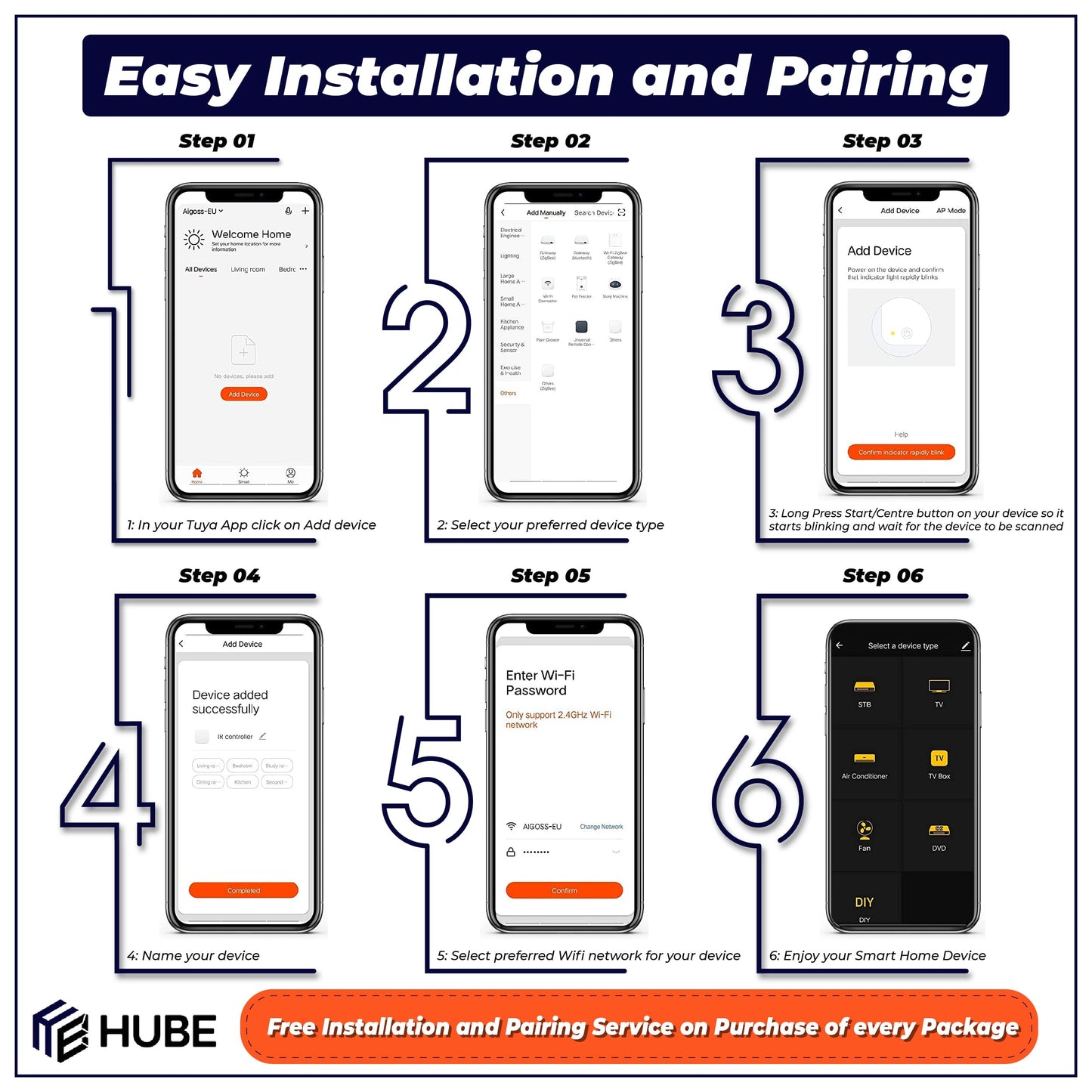 Product information
| | | | |
| --- | --- | --- | --- |
| Product Dimensions & Weight | 86 x 86 x 35 mm; 140 grams | Panel Material | Glass Touch Panel with LED indicator |
| Touch Sensitivity | High (Supports wet touch as well) | Protection | Electric Shock Proof |
| Life | 100,000 Times | Speed Points | 0 to 100 |
| Voltage | N+L 100-240 VAC 50/60 Hz | Certifications | CE, FCC, RoHS |
| Power Rating | ≤ 400 Watts | Connectivity | Wireless (WIFI 2.4 GHZ B/G/N) |
| Rated Current | 10A | Warranty Period | 12 Months |
Product description
Features: 
Are you looking for a smarter way to Control your Home's Fans?
Hube brings you the finest Solution to Smartly Control all Fans of your House with our Range of Exquisitely Designed Smart Fan Dimmer Switches. Now, you don't need to Manually control any fan in your House as Our Smart switches give you the complete Control of all of your Home's Fans on your fingertips.
Whether you want to Change the Speed of your Fan through a Mobile Application or you want to create Routines and Automations that can help you live your life more conveniently… Whether you want to turn ON Multiple Fans with a single Voice Command or you want Your room's Fan to Turn OFF automatically in the Morning to Help you with your Sleeping Schedules, Hube's Smart Fan Dimmer has got you covered for all of your Personal Convenience needs.
Packing List
1 x Smart Wifi Fan Dimmer Switch
2 x Screw
1 x User Manual
1 x 12 Month Warranty Card
1 x Packaging Box
Note: Before purchase, please check that the switches in your House are based on UK standard size, you can do this by simply measuring the size of your currently installed switches to see if they are 86 x 86 mm. This Switch also needs Neutral Wire Connection, please check that your Home wiring has Neutral Wire (Almost all Houses in Pakistan Have Neutral Wire connections).
QUESTIONS & ANSWERS
Have a Question?
Be the first to ask a question about this.
Ask a Question
CertifiedProducts
Upto 2 YearWarranty
Free Nationwide Delivery2 to 7 Working days
Easy ReplacementPolicy
24/7 CustomerSupport
100% SecurePayment