Wireless Charging 10,000 mAh Fast Charging Power Bank
Regular price
Rs. 6,999.00
Regular price
Rs. 7,999.00
Sale price
Rs. 6,999.00
Unit price
per
About this item
Qi-compatible 15 Watt Wireless Charging: Hube's Wireless Ultra-Fast Charging Power Bank is the finest solution to Super Charge all of your Devices Wirelessly in the simplest manner so You don't have to carry extra cables with you all the time. This is no ordinary power bank as it energizes your device Several times Faster compared to any other contemporary portable power bank with the perks of being handier and much more convenient. Hube's Wireless Power Bank possesses the most advanced and futuristic features and supports Qi protocol for wireless charging with Wireless Output of up to 15 Watts making it easier to use while you are out and about. Now, You no longer have to weigh yourself down when you have a lighter, thinner and fancier alternative to your cable complications.

10,000 mAh 37 Wh Backup power supply: With high power comes high efficiency. Now you can Fast Charge your phone efficiently and wirelessly by simply pressing a button. Hube's smart ultra-fast wireless power bank keeps your devices pepped up by replenishing their depleted battery on the go. This 37Wh external battery charges your device nearly two times with a maximum output of 20W. So now, your Cell Phone can never be battery drained when you are on the move as Hube's Wireless power bank is there to support You. 

Qualcomm Quick Charge (QC) and Power Delivery (PD) 20W Output: Hube Power Banks are equipped with the Most Advanced and Futuristic Fast Charging Mechanisms that make the process of  Charging Your Cell Phone Unimaginably Fast. Qualcomm Quick Charge and Power Delivery (PD) features of Hube Power Banks operate by increasing Output Voltage and creating a Sync with Your cell phone's Power Input that decreases the Power wastage during charging and is thus able to transfer more Power juice into your device in a much faster way. This standard is best for efficient charging especially when your cell Phone needs a boost of power in a pinch of time. The blazing Fast Charging speed with a Max Output of up to 20W of this Power Bank means that you can Fast Charge your fully drained device up to 50 % within just 30-40 minute.

Portable size with Stylish Design and Digital Display: The 10,000 mAh 37Wh portable power bank is lightweight, pocket-sized, and almost half the size of other comparable power banks. The slimline form makes the power bank travel friendly and comfortable to hold. The shape is simple and refined, and it can be well integrated with your devices. This lightweight power bank can easily hide away in your hand carry, purse, backpack, suitcase, or any form of other luggage. The attractive ultra-smart and stylish design comes with a digital display indicating power capacity which can be easily checked at a glance.

Universal Compatibility with Multiple Input/Output Ports: Hube Power Bank's Universal Compatibility means that You can charge your phones of almost all brands easily. From Apple to Samsung and Including all other Popular Cell Phone Brands like Google Pixel, Oppo, Vivo, OnePlus, Xiaomi, Nokia. Huawei, Motorola, Lenovo, LG. This Power Bank has 2 USB A Output Ports, 1 Micro USB Input Port and 1 USB C Port which is both Input and Output. So You can Charge Upto 3 Devices at the Same time and No matter which USB Input type your Phone has, You can Charge it with Hube's Universally Compatible Power Bank.

High-density Lithium Polymer Batteries with 10 Safety features]: At Hube, we Value Your Safety and well-being at the utmost level, which is why Hube Power Banks are manufactured with the most advanced Safety Features. We have Used Lithium Polymer Batteries instead of Lithium-ion Batteries in Hube Power Banks; Lithium-ion batteries are inherently unstable, suffer from aging, are potentially dangerous, and also can cause combustion (fire) but Lithium Polymer Batteries are Robust and Flexible with a much Higher Safety Grade. Hube Power Banks inherit the same positive qualities of Lithium Polymer Batteries and have built-in multiple protection systems to ensure full protection for your devices with protections like short-circuit protection, over-current protection, and over-charge protection.

Worry-Free 1-Year Warranty: At Hube, we have a firm belief about the Reliability and Quality of our products and that is why we Confidently back them with a 1-Year Full Service Warranty and easy-to-reach Customer Support. This Power Bank Model has Global CE, FCC, and RoHS Certifications with an expected life of 500+ charging cycles, which means that you can rest assured of the Fine quality of this power bank and can have your heart at peace regarding the performance of this Power Bank.
See more >>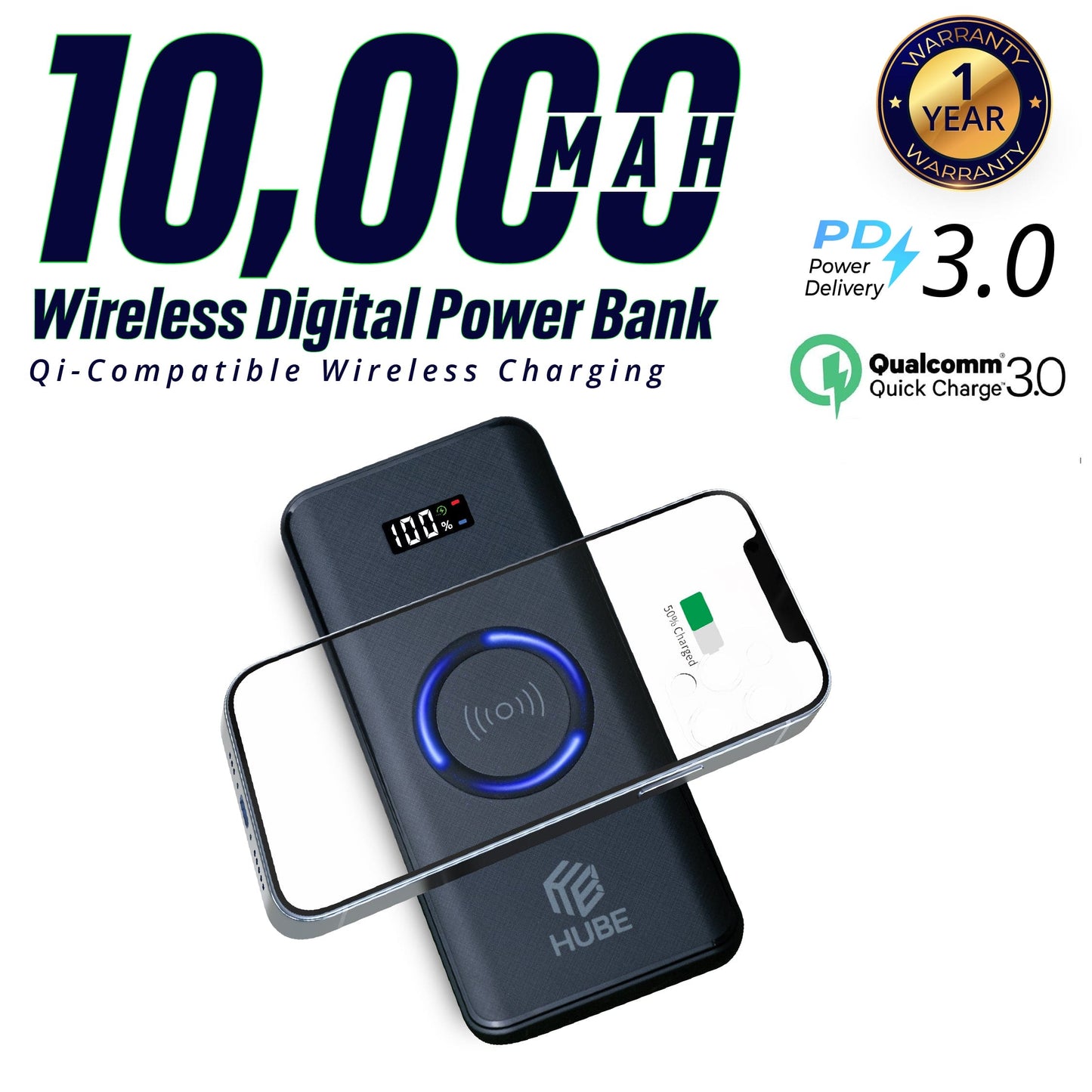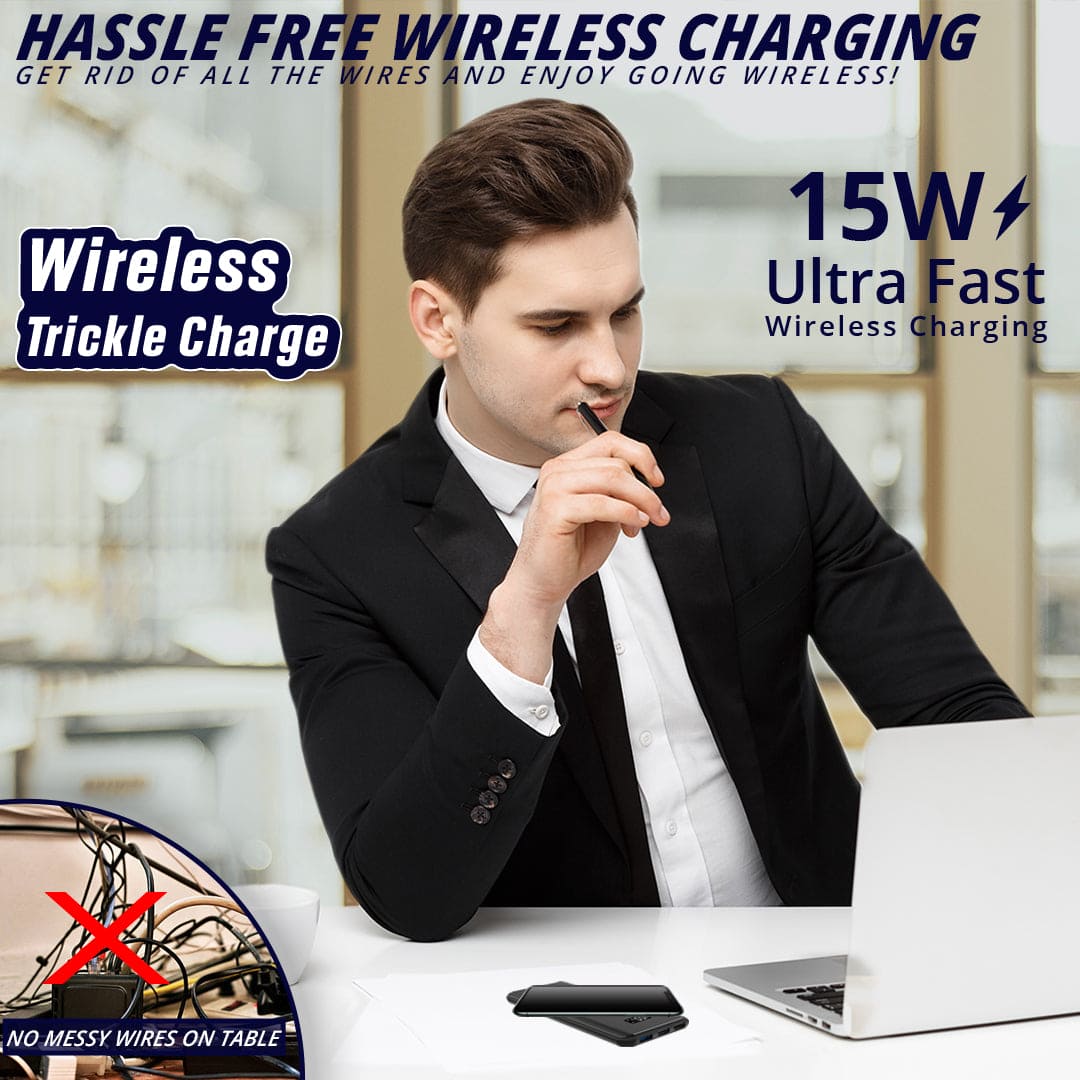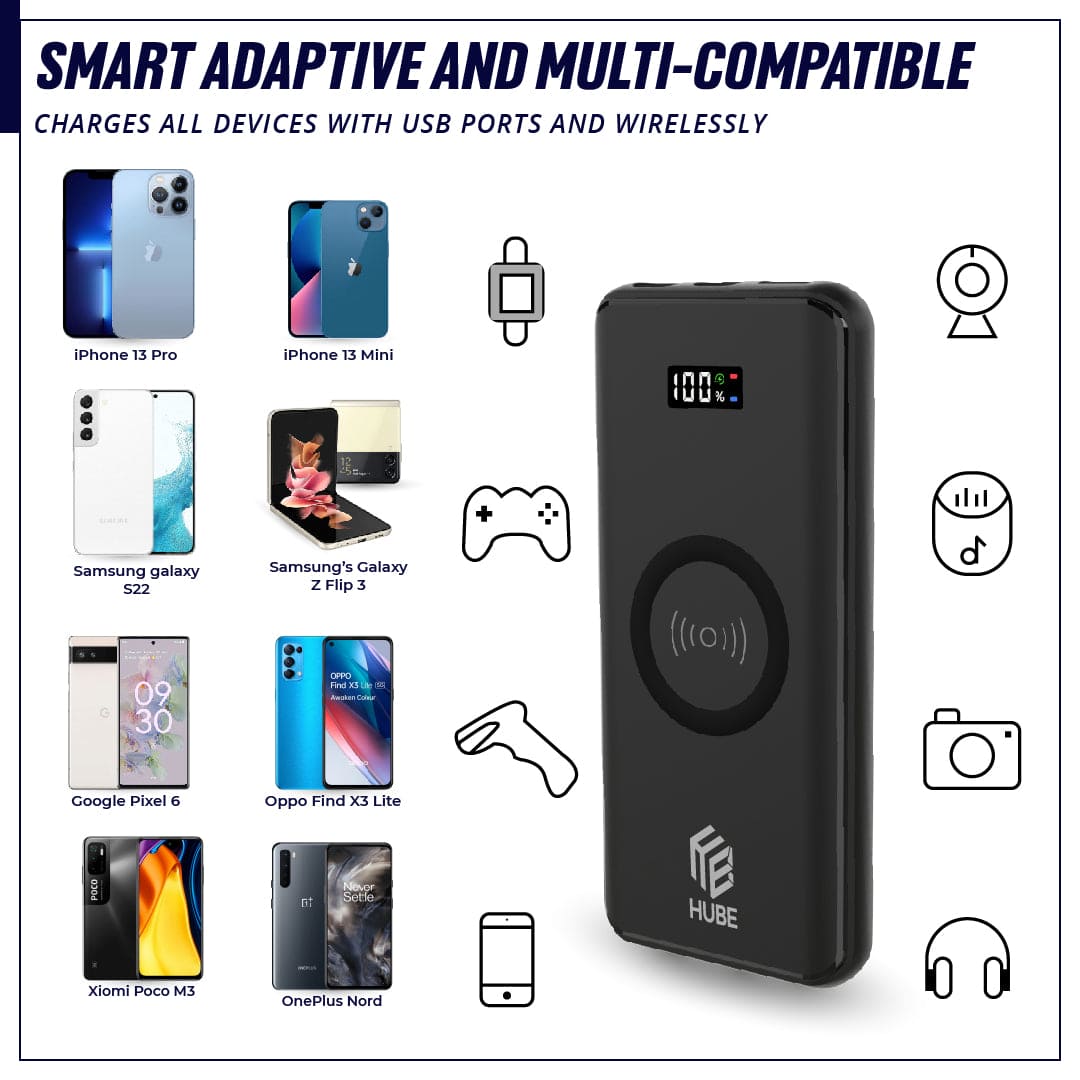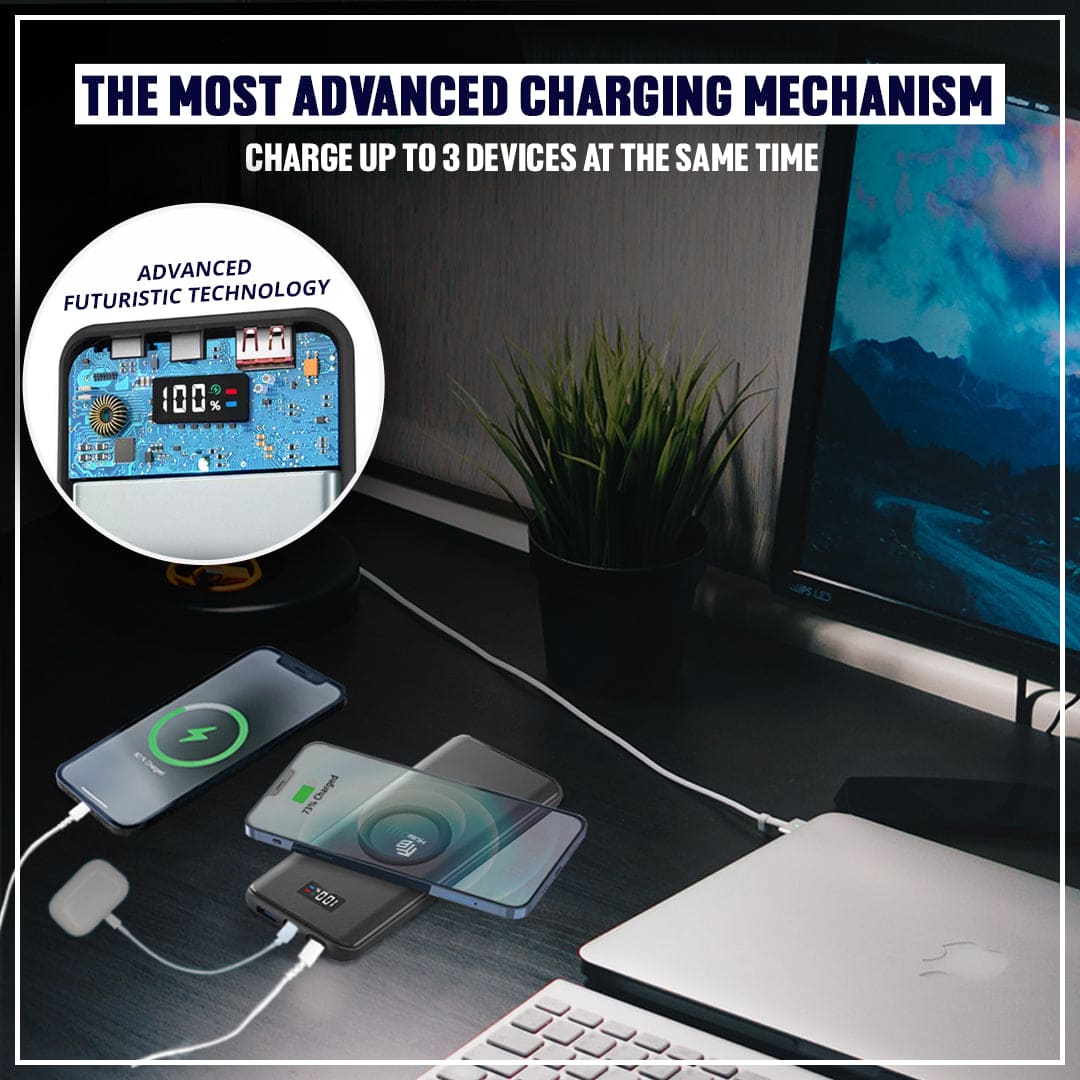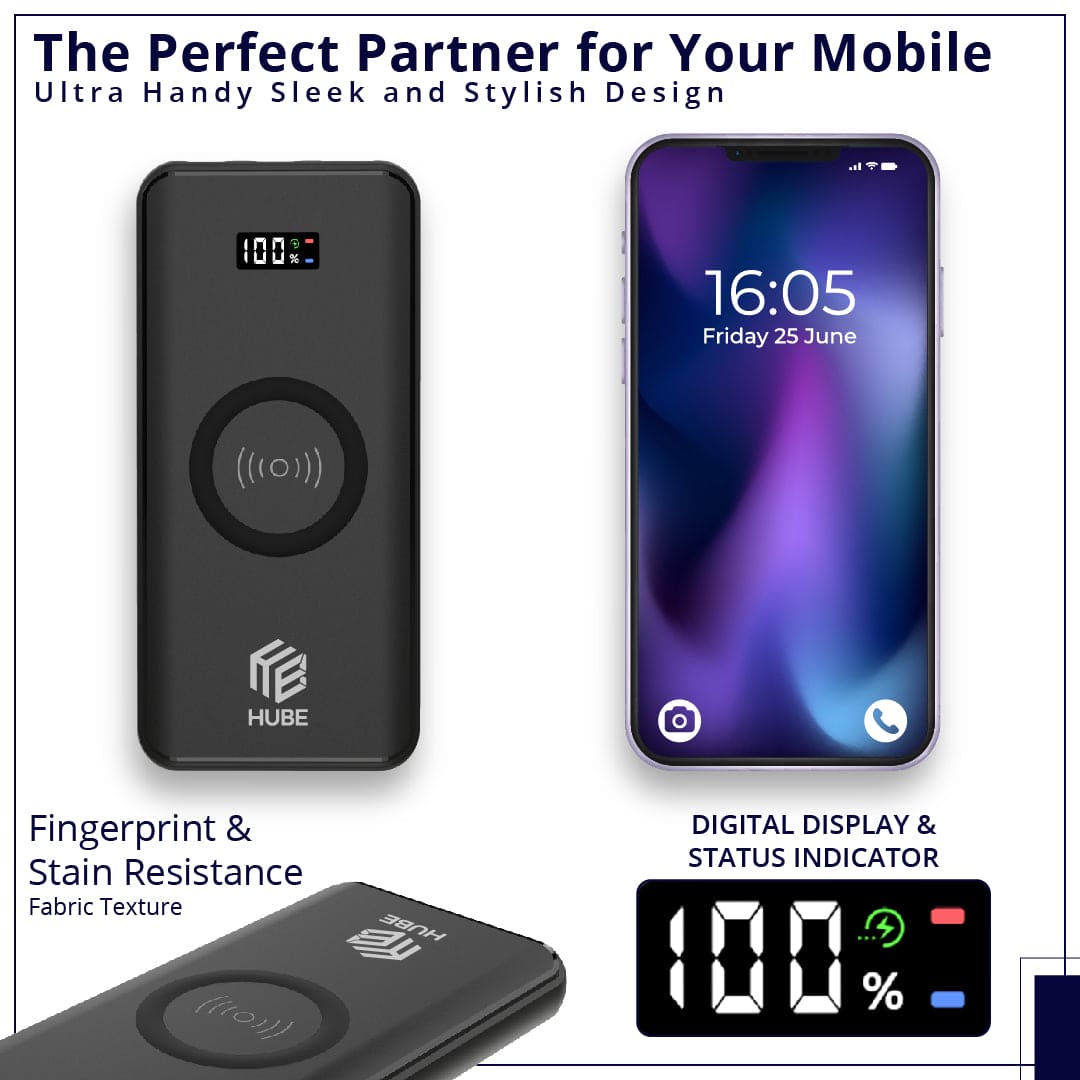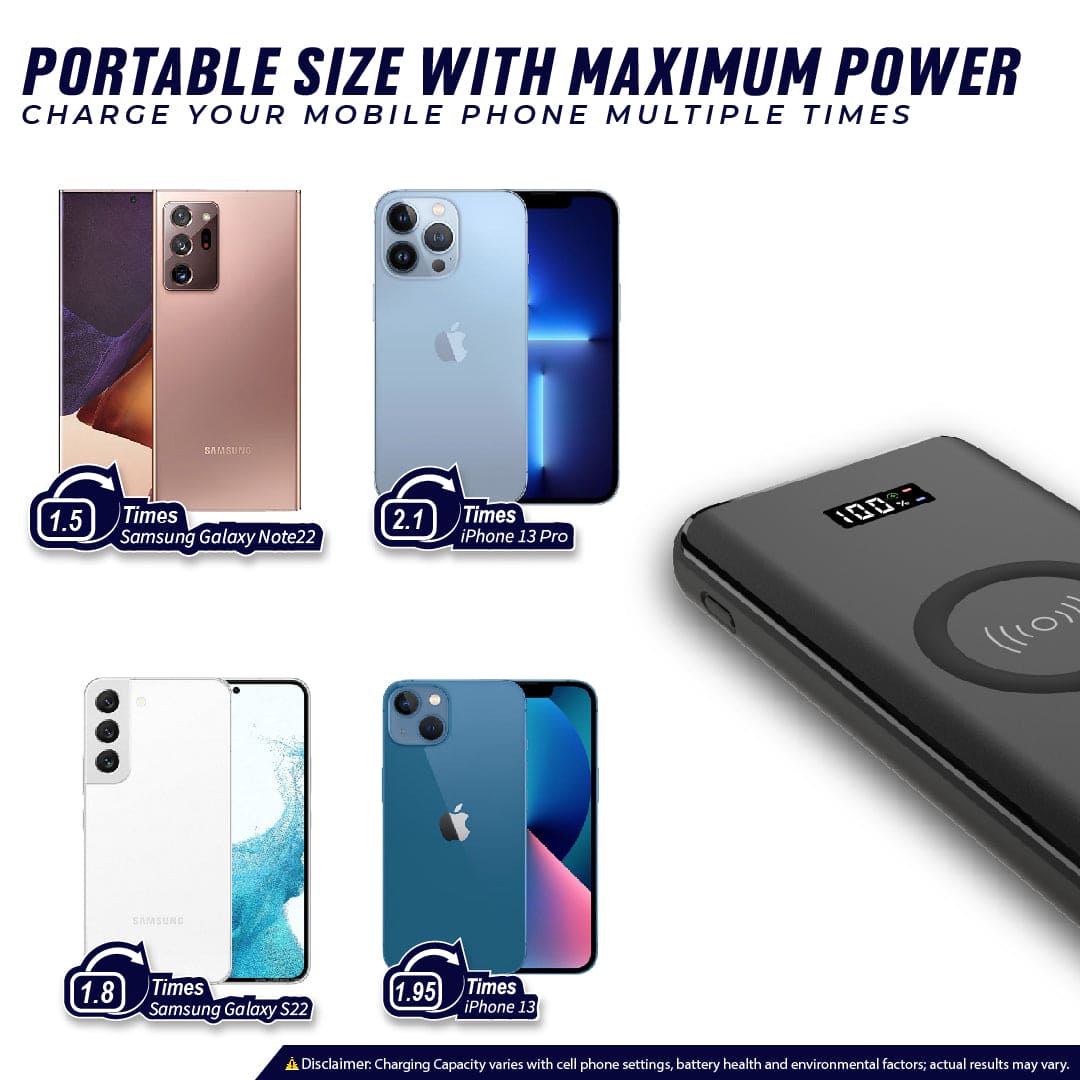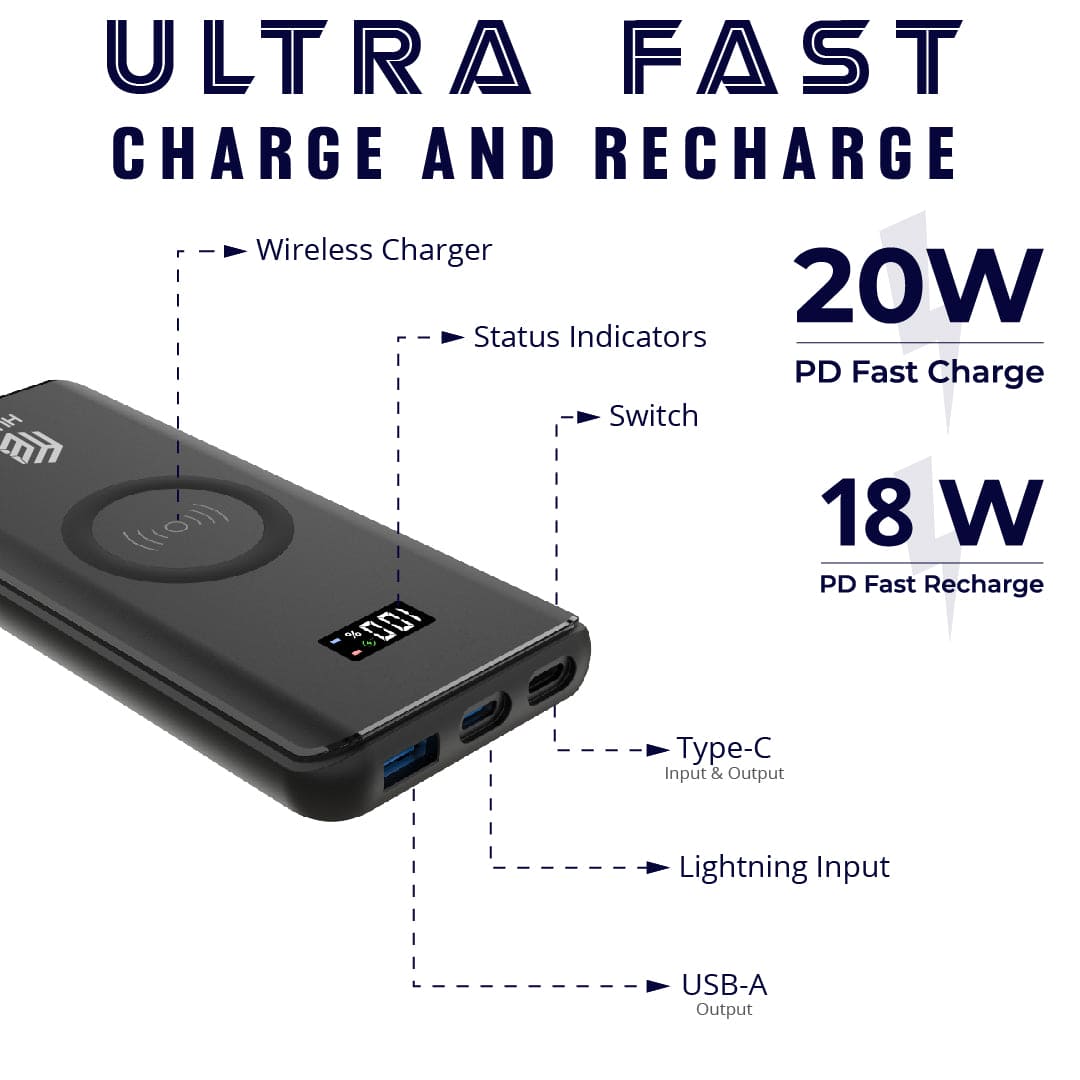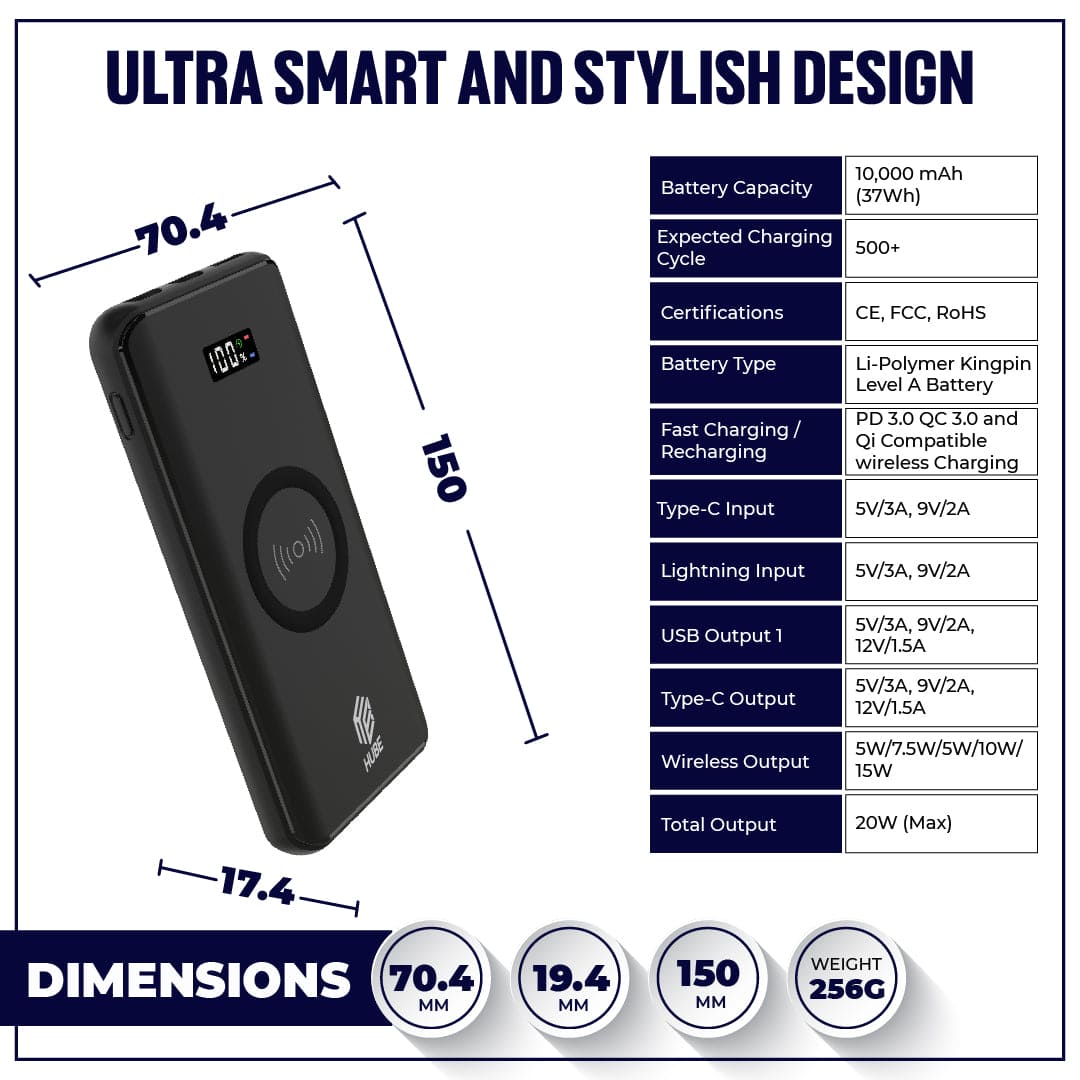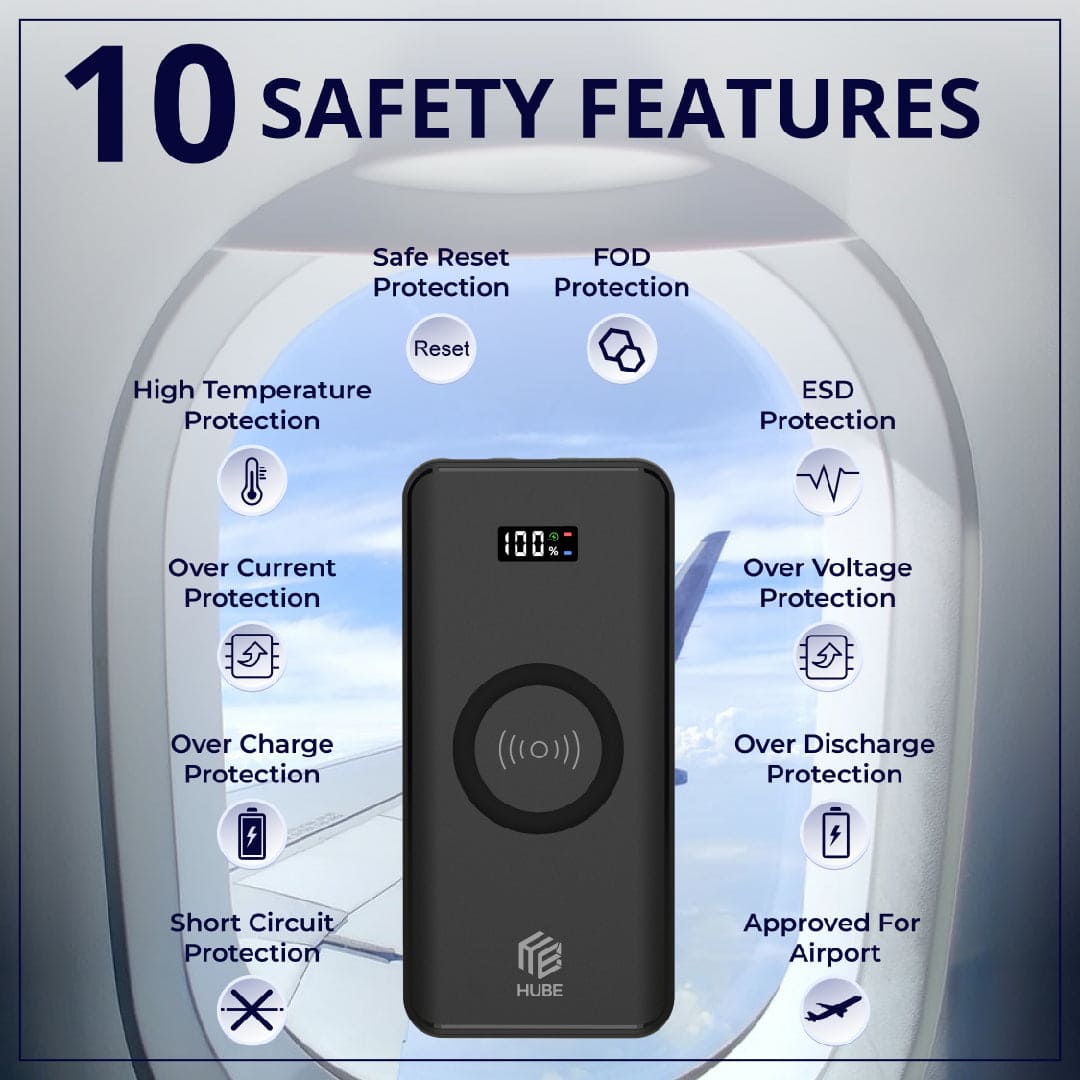 Product information
| | | | |
| --- | --- | --- | --- |
| Product Dimensions & Weight | 150 x 70.4 x 17.4 mm; 256 g (approx.) | Type-C Input | 5V/3A, 9V/2A |
| Battery Capacity | 10,000 mAh (37Wh) | Lightning Input | 5V/3A, 9V/2A |
| Expected Charging Cycles | 500+ | USB Output 1 | 5V/3A, 9V/2A, 12V/1.5A |
| Certifications | CE, FCC, RoHS | Type - C Output | 5V/3A, 9V/2.22A, 12V/1.5A |
| Battery Type | Li-polymer Kingpin Level A battery | Wireless Output | 5W/7.5W/10W/15W |
| Fast Charging / Recharging | PD 3.0, QC 3.0 and Qi-Compatible Wireless Charging | Total Output | 20W (Max) |
Product description

Tired of all the wires tangling up your life? Unknot your time and make your life easier on the go. With the facility of replenishing up to 3 devices on the move with Qi wireless charging, Hube slim and smart power bank strengthens your confidence level while you go about your day. 
There is no denying the fact that power banks are the most useful gadget in the world and do you know what is even more useful? A power bank without any wire. Now you can never go helpless as Hube's extra-ordinary smart wireless power bank charges your devices in no time without any wired connection. The fact that it is smart adaptive and multi-compatible with all mainstream smartphones makes it all the more desirable.  All you have to do is just place your device on top of the power bank and experience the magic. Trust the wireless magic and let it be your best go-to partner. 
Whether you are on the move or traveling around the world, you no longer have to live your life with fear of battery discharge. Hube has got your back! So, power up and party down with our QC and PD Fast Charging Power Bank. It is beautifully designed and carefully structured to make your life easier and better. You no longer have to drain yourself with battery issues as the efficiency of our portable power bank can quickly revive your device within 30 minutes.
Oftentimes, the investment you make on a product counteracts as a loss because you fail to realize the quality and you compromise on the durability. Worry not! The choice you make on getting yourself a gadget that not only juice-ups your battery sufficiently but is reliable and secure in emergencies is worth each penny you spend. Let's face it, you cannot carry along the socket and your smart phone charger wherever you go, especially when you have tons of other things to manage. The ultra-thin lightweight design of Hube 10,000 mAh Power Bank not only fits right in your necessary hand-carry but it also complements with your smart devices. 
It is not only the high-capacity that matters when choosing the right power bank for your device, physical size, number of charging ports, warranty, voltage and last but not the least price also makes a huge difference. Imagine having a power bank that is thrice the size of your smartphone and weighs double the weight of your device. Would you rather want to carry your power bank in your hand or would you be comfortable keeping it alongside your device? Having said so, Hube is offering you a lightweight portable travel-friendly size that wouldn't let you bite your nails with awkwardness. 
Popular compatible devices:
As a matter of fact, many phone and battery manufacturers struggle to bring a solution for battery life woes. Although, there hasn't been any miraculous progress at this end, a solution in the shape of a power bank comes as a knight and shining armor for their relief.  Hube 10,000 mAh brings you advanced battery solutions for your advanced upgraded mobile phones, whether it is iPhone 13 pro max, Samsung galaxy S22 or Apple iPad Air pro, Hube has got you covered! 
Popular compatible devices are: iPhone 13 pro max, Samsung galaxy S22, Samsung Note 22, Samsung's Galaxy Z Flip 3, Google pixel 6, Oppo Find X3 Lite, Xiaomi Poco M3, OnePlus Nord and Apple iPad Air pro
Packing list: 
- 1 x Hube 10,000 mAh Power Bank
- 1 x 30 mm USB Type A to Type C Charging Cable
- 1 x Hube Warranty Card
- 1 x User Manual
When we speak of prices, we know for a fact that cheaper is not always better, you get what you pay for, Hube offers you a cost-effective solution, it's a deal that you wouldn't want to miss, the price is surprisingly reasonable and the quality is incredibly real. 
*Note: Please make sure that you have a device that supports wireless charging in order to use the Wireless Charging function of this Power Bank.
**Note: Charging time and Speed varies based on Cell Phone Settings, Battery Cycles, and Environmental factors. All the Charging numbers are based on results obtained from several tests but actual results on the user's phone can slightly Vary based on the factors mentioned.
QUESTIONS & ANSWERS
Have a Question?
Be the first to ask a question about this.
Ask a Question
CertifiedProducts
Upto 2 YearWarranty
Free Nationwide Delivery2 to 7 Working days
Easy ReplacementPolicy
24/7 CustomerSupport
100% SecurePayment