Air Fryer
Regular price
Rs. 38,499.00
Regular price
Rs. 44,999.00
Sale price
Rs. 38,499.00
Unit price
per
About this item
[ Perfect Crisp and Texture ]: Hube Air Fryer is meticulously designed with 360 Degree Hot Air Circulation Technology to achieve the Perfect results in Air Frying. The Rapid Air Circulation in Hube's Revolutionary Air fryer ensures that you achieve the Perfect Crisp, Great Texture and the Soothing Golden Brown Color while evenly cooking your food from all sides. And the 1600 Watt Motor ensures Fast and Efficient Frying of all items to save you tons of time and effort. 

[ Innovative Fat Removal Technology ]: Hube's Air Fryer is integrated with Our Innovative Fat Removal technology. This technology seamlessly removes unwanted fats and oil from the surface of your foods and collects it below the net to ensure that you can cut out maximum fats from your diet and enjoy your favorite foods with upto 90% less fats. 

[ Aesthetic Design with Intelligent LED Touch Display  ]: The Perfect Glossy finish along with the Intelligent LED Touch Screen gives our Air Fryer the Perfect Aesthetics to enhance the looks of your Kitchen to a new level. The Led Screen is tilted from top facing the user to make it easily operable from all sides as Hube's Air fryer was exquisitely designed keeping the customer in mind thus, even the smallest of details were ensured to improve the customer experience.  

[ Spacious 7.0 Litre Basket enough for 5 - 8 Servings ]: The 7 Litre spacious basket makes this Air fryer suitable enough to cook complete meals for up to 5-8 people in a single go. You can't totally understand how useful this feature actually is until you start saving several hours of cooking time every single day in your kitchen due to the use of your new Hube Air Fryer. The Square Shape of the basket enables cooking even a complete chicken in this Air Fryer. And the Stainless Steel basket is BPA Free and Non Stick to ensure the health of your loved ones. 

[ Smart Controls with 10 Cooking Presets ]: The Smart Controls enables You to automatically pick Time and Temperature as per the Food Item you want to Cook as it has 10 Built in Cooking Presets. Simply select the food item from the list on screen and press the Go button. But if you want to cook anything on Custom Settings, then you can also select settings manually from the 0-60 Minute Timer Range and 50-200°C Temperature Controls. If you are not sure how much time you should keep any certain item, you can also open the Air Fryer during its run time to check the status of Frying and our Auto Switch Off feature will pause Frying when you Pull off the basket, it will then automatically resume time when you push the basket back inside. 

[ Global Safety and Quality Certifications with 2 Years Warranty ]: At Hube, Quality comes first! Our CE, CB, EMC, RoHS Globally Certified Air Fryers are Precisely Manufactured with Input of 220-240 V to cater for Over Heat Protection. With a Powerful Motor of 1600 Watts The Air Fryer is sure to be your kitchen companion for many upcoming years. Plus we offer a 24 Months Warranty on Hube Air Fryers to make our customers even more comfortable.
See more >>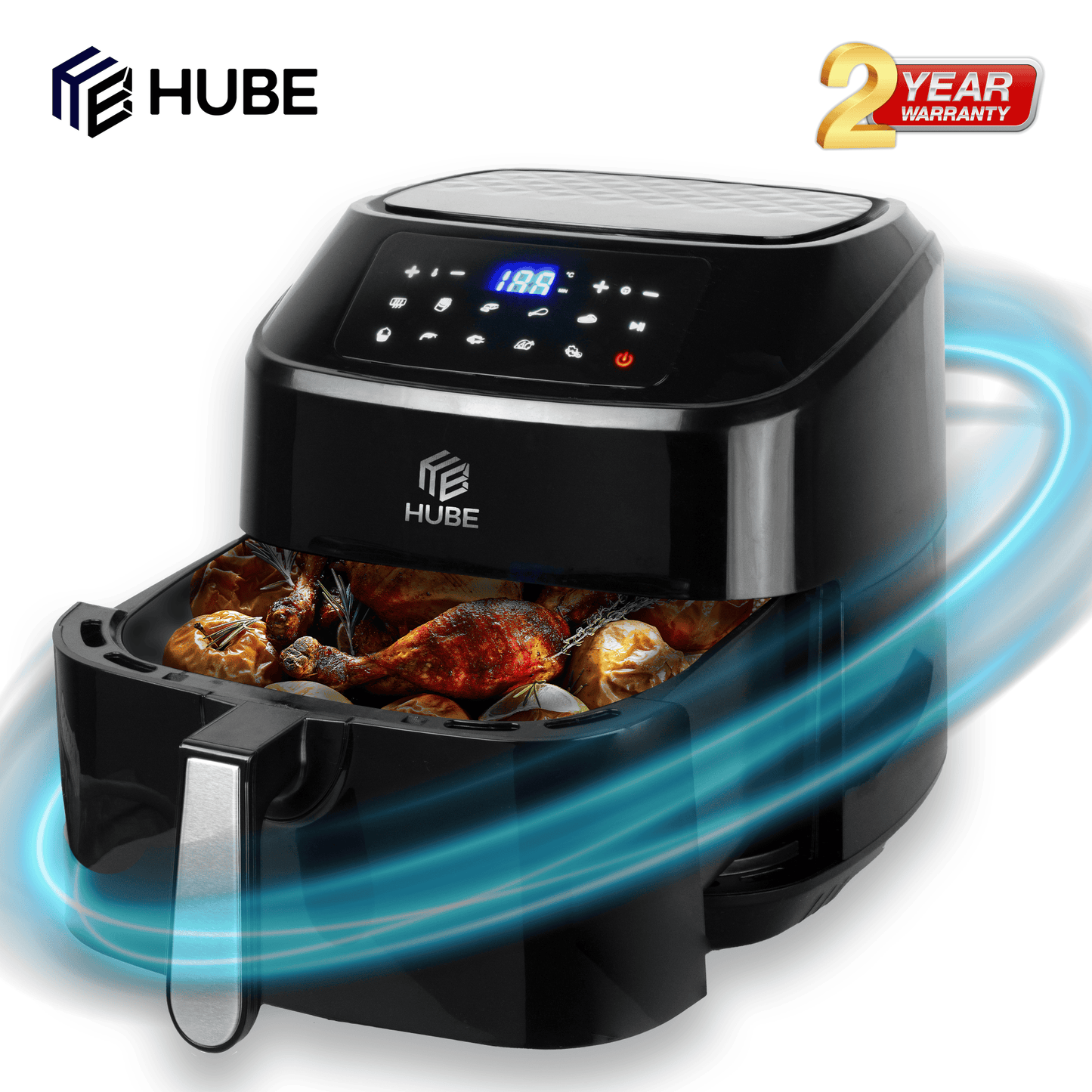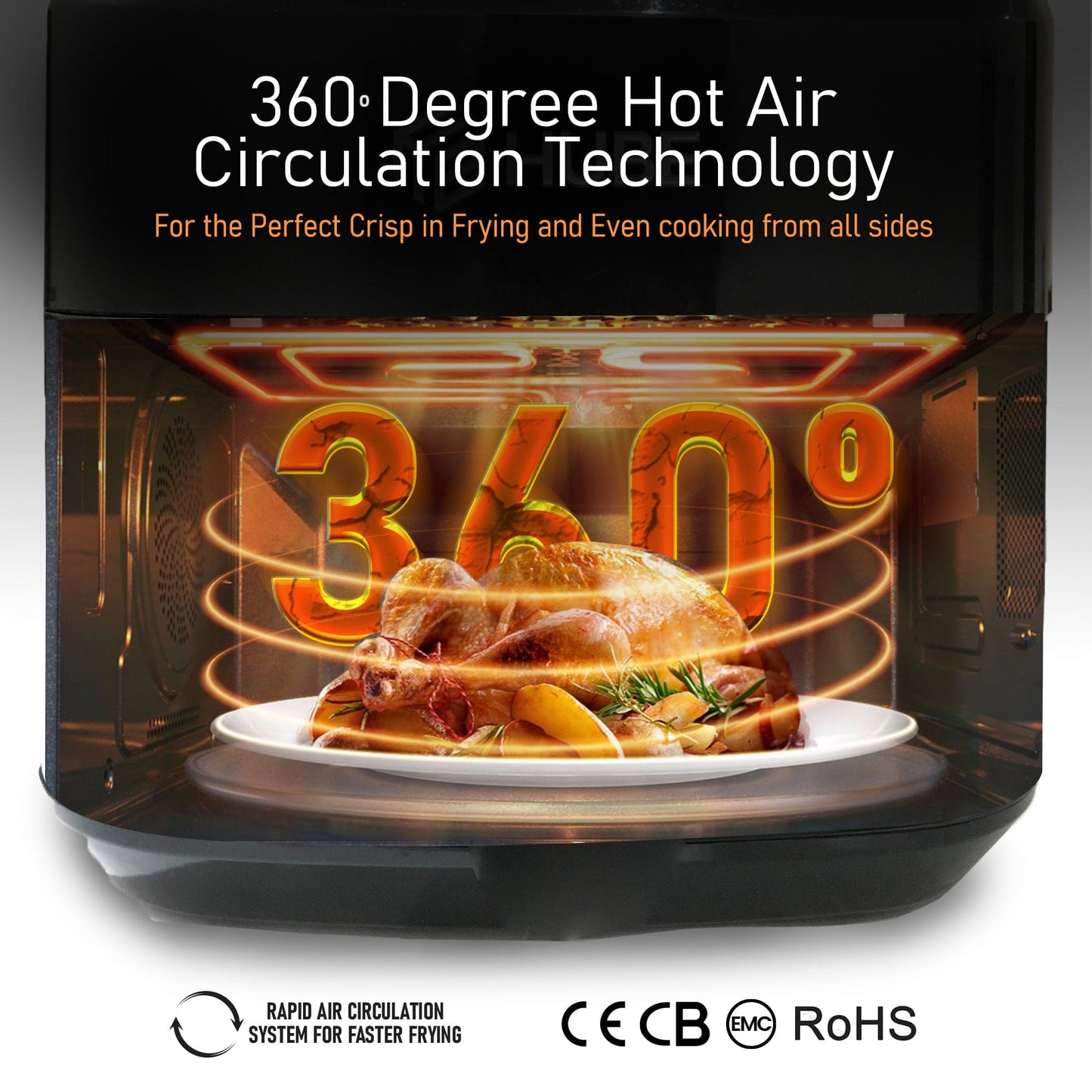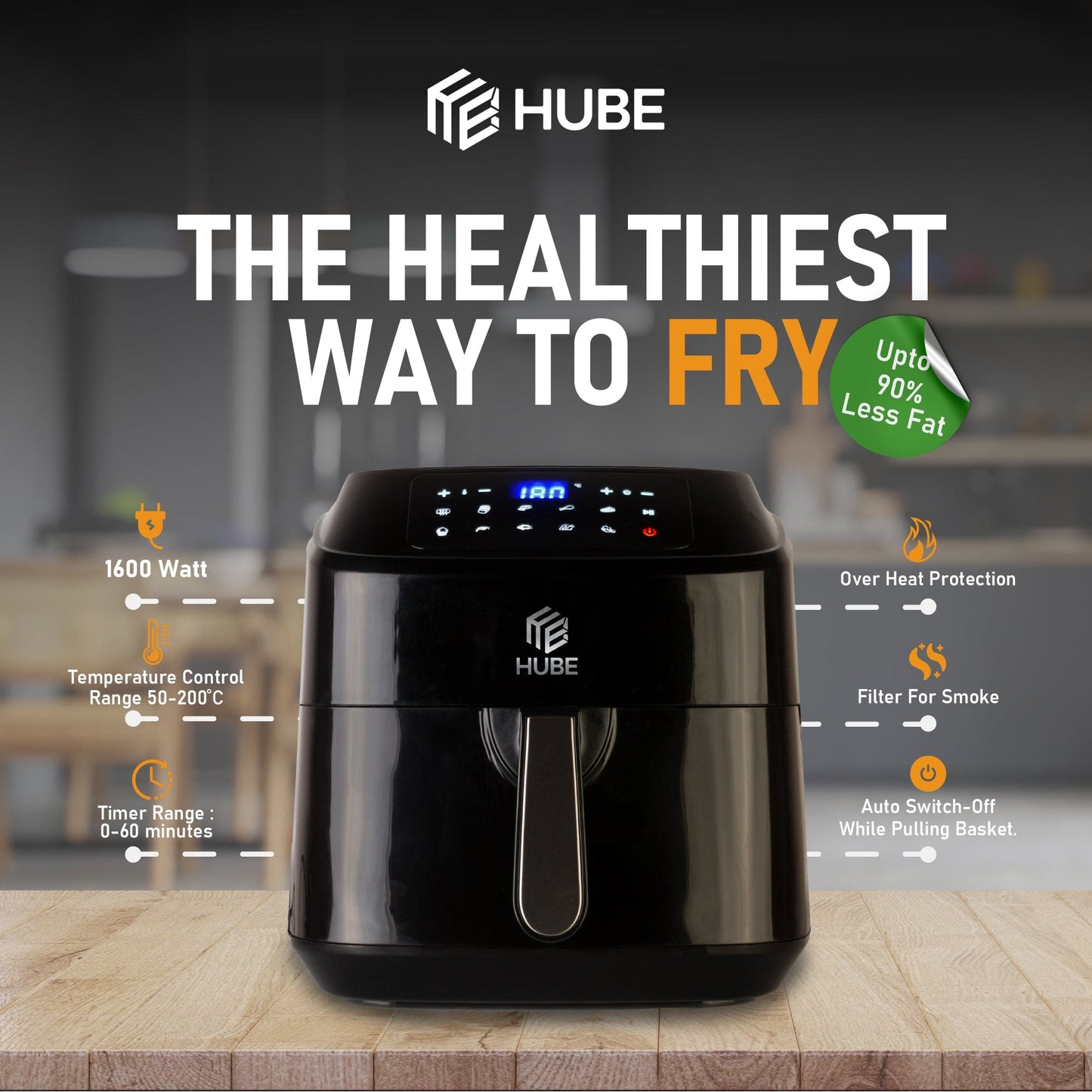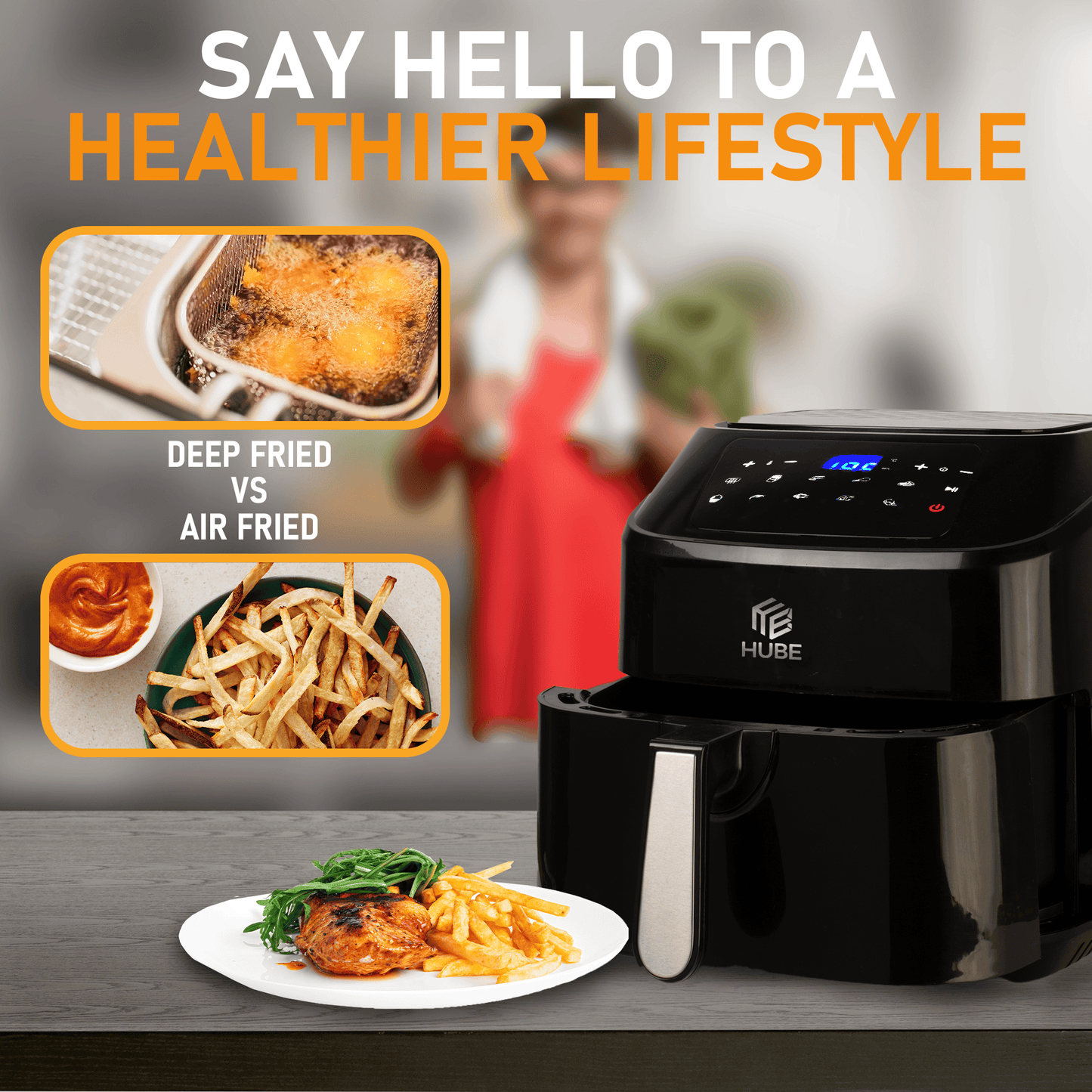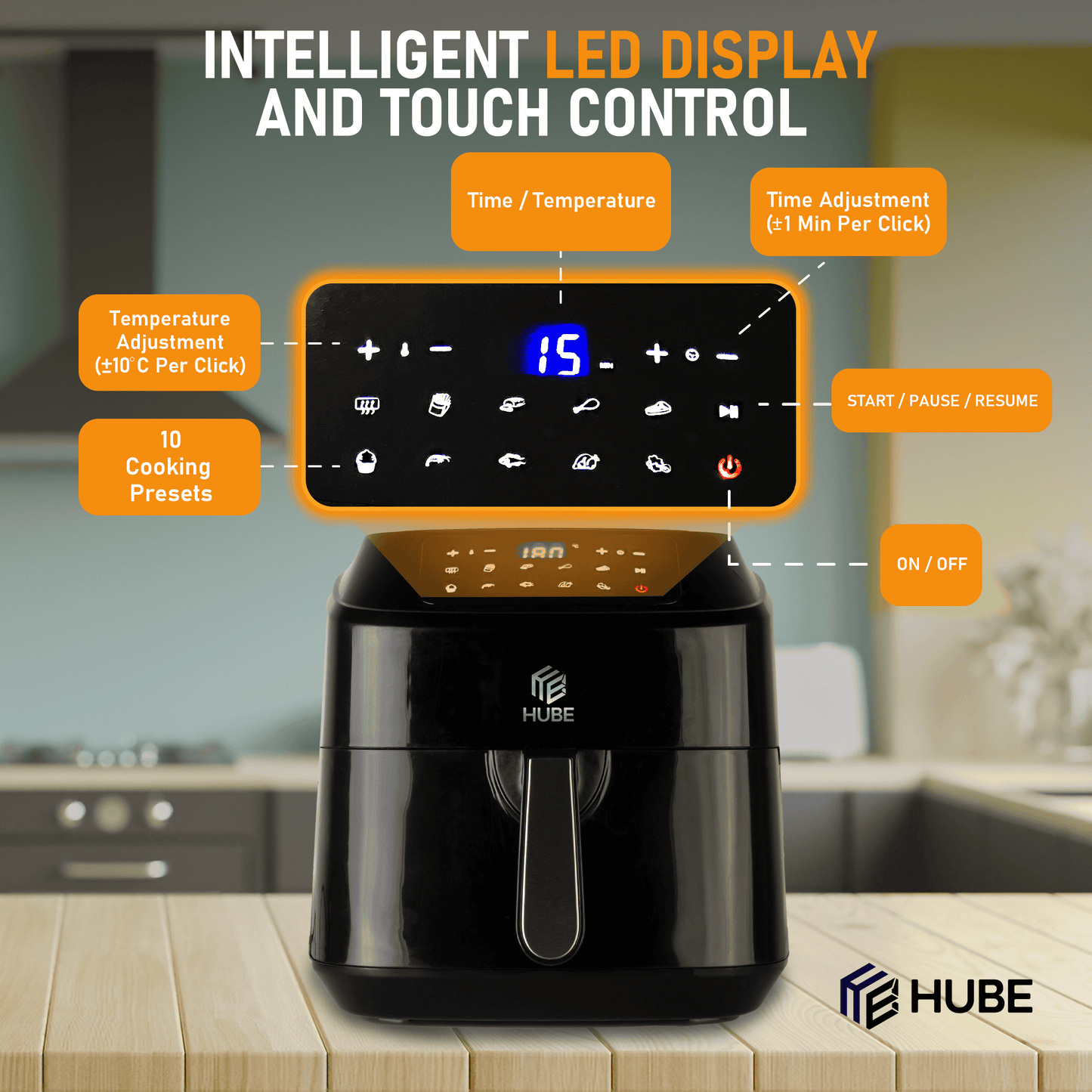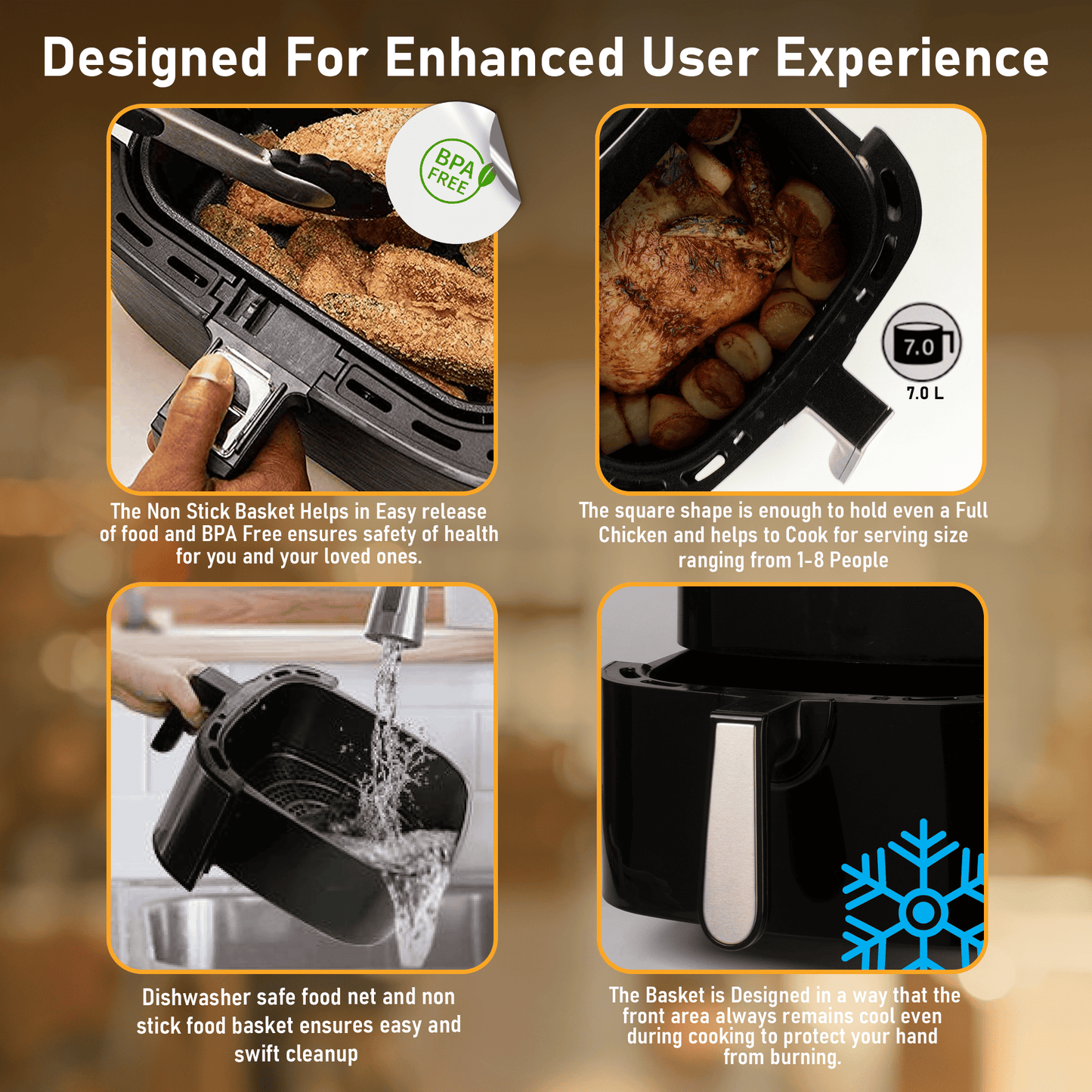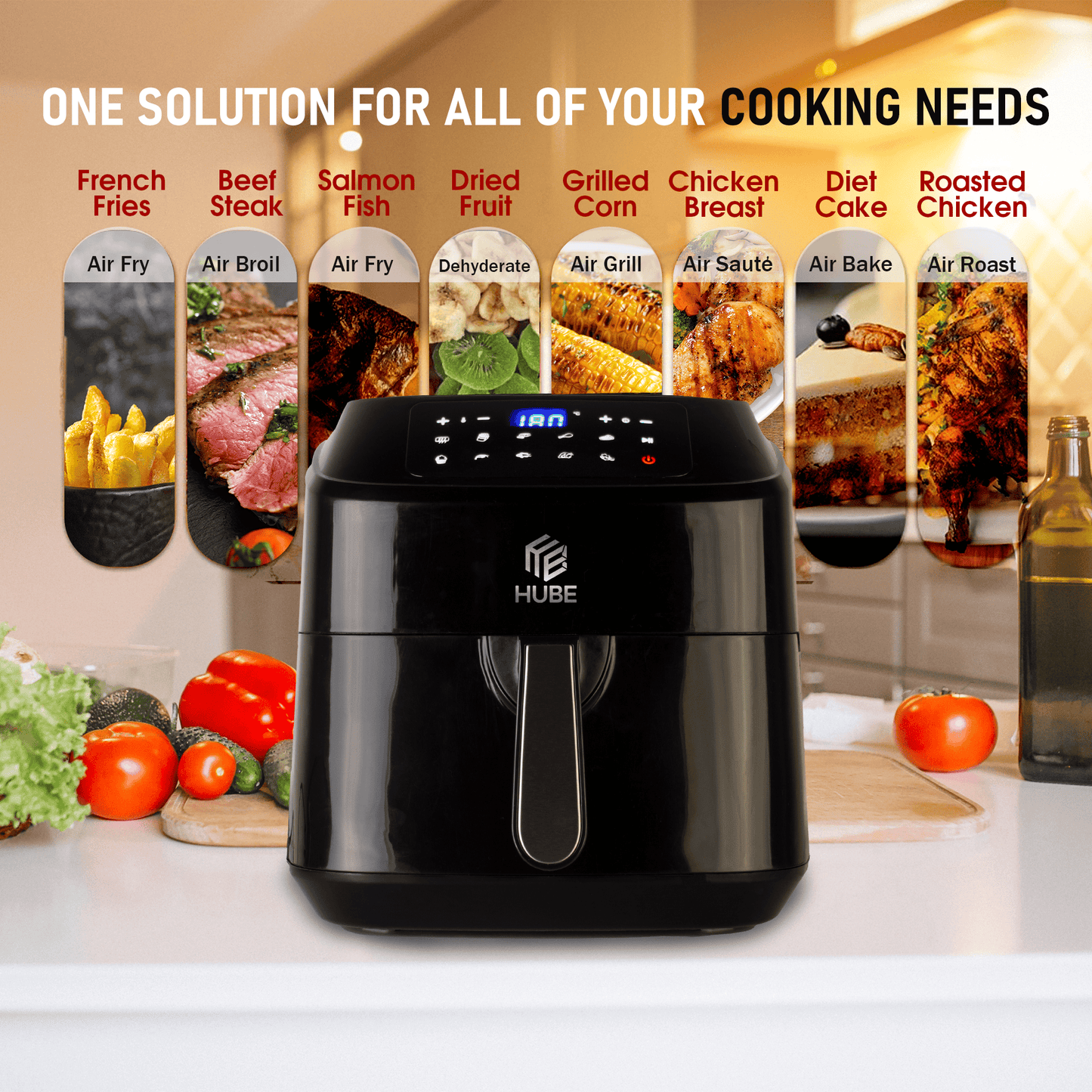 Product information
| | | | |
| --- | --- | --- | --- |
| Product Dimensions & Weight | 32.5 height x 30x30 cm; 5.5 KG approx (without accessories and packaging) | Drawer Capacity / Servings | 7 Liter (5 - 8 Servings) |
| Watts | 1600 Watt | Cooking Presets | 10 |
| Voltage / Hz | 220-240 V50/60 Hz | Certifications | EMC CE CB ROHS |
| Temperature Control Range | 50-200 °C | Basket Material | Stainless Steel BPA Free |
| Timer Range | 0-60 minutes | Warranty Period | 24 Months |
Product description
Are you struggling between Eating Tasty and Eating Healthy?
If you are someone who Loves Munching on Tasty Fatty Food items Like Crispy Fried Chicken, Deep Fried Rolls or Freshly Fried Samosas but You also want to lose weight, then we totally understand the struggle that you are stuck in. Controlling Fats intake has never been easy for food Lovers up until now But now, things are about to change.
Now you can Buy Best Latest Air Fryer Online in Pakistan easily available at an affordable price.  Hube's Air Fryer is a revolutionary Appliance which will totally change the way you Look at Fried Food.
With Hube's Air Fryer, you can now Prepare All of your Favourite Fried Food Items with Up to 90% Less Fats. Just brush up some Oil on whatever you want to Fry, set the time and temperature as per your requirement and press the start button. Our 360 Degree Hot Air Circulation Technology will cook your Food with the Perfect Crisp and Texture while our Innovative Fat Removal Technology will remove all the excess Fats from your Food and collect it below the net in the basket.
Hube keeps its customer's satisfaction on priority and offers you the best deals on air fryers. The prices we offer are pocket-friendly and the quality that we offer is unparalleled. There are numerous benefits of buying our latest air fryer, one of which is our air fryer's sheer versatility.
Hube's best quality air fryer guarantees satisfaction for old and young alike. You will be surprised at how many different food items you can make with our instant air fryer. You can make easy appetisers, dinner meals, veggies to serve alongside, and even chocolate chip cookies for dessert. Our latest air fryers are a healthier alternative to deep-fried and junk food.  Cooking with comfort is the best choice you can make. With our best deals on the air fryer, it is also good value for money.
So get Ready to Dive into a Healthier Lifestyle with Hube's Digital Air Fryer.
Hi, can we bake and grill in this fryer?

Yes Sir. The 7 Liter Capacity of Hube's Air Fryer allows you to bake and Grill Foods in Large Quantity.

Can we roast whole chicken in it ?

Yes, You can. Hube's 7 Liter Digital Airfryer is designed Particularly to cater the need of such large Capacity.
CertifiedProducts
Upto 2 YearWarranty
Free Nationwide Delivery2 to 7 Working days
Easy ReplacementPolicy
24/7 CustomerSupport
100% SecurePayment